Alright, so we're doing a first for Good Beer Bad Movie Night– letting you choose which cinematic embarrassment we must endure for next month! Review the choices below then select the movie in the form below. Or don't. I don't care.
Saturn 3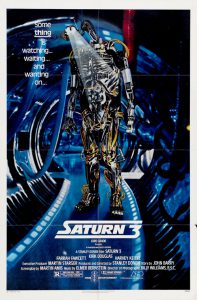 Plot: Two lovers stationed at a remote base in the asteroid fields of Saturn are intruded upon by a retentive technocrat from Earth and his charge: a malevolent eight foot robot.
Hopefully we won't need to watch the first two Saturns to understand this one. (Kidding– it's not a sequel! Hahaha oh my sides… )
---
The Norseman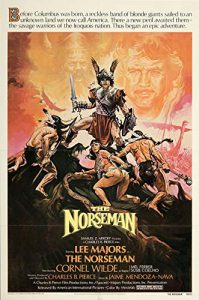 Plot: An eleventh century Viking Prince sails to America to find his father, who on a previous voyage had been captured by Indians.
It's always in the last place you look.
---
Spacehunter: Adventures in the Forbidden Zone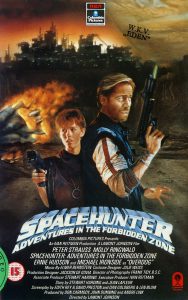 Plot: Three women make an emergency landing on a planet plagued with a fatal disease, but are captured by dictator Overdog. Adventurer Wolff goes there to rescue them and meets Niki, the only Earthling left from a medical expedition. Combining their talents, they try to rescue the women.
I assume the second "f" in "Wolff" is silent.
---
The Being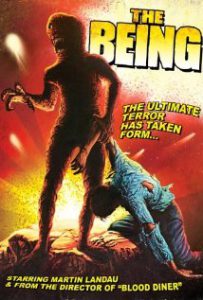 Plot: A mutated creature is wreaking havoc in a small town in Idaho. A police chief and a government scientist team up to save their rural town from its menace.
If you say "wreaking havoc" out loud enough times it stops sounding like words.
---
Frogs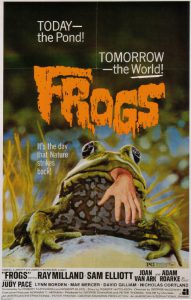 Plot: A group of helpless victims celebrate a birthday on an island estate crawling with killer amphibians, birds, insects, and reptiles.
Well that's just poor party planning.
---
Got it? Now select the movie below. It's kind of like choose your own adventure, except "your own adventure" is actually "our horrible suffering."
Polling for the next bad movie has ended.
Maybe move a little faster next time, Captain Slowpoke.